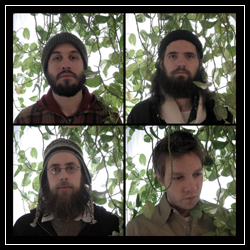 Akron/Family
@
The Bowery Ballroom
, 6-12-07.
A couple nights ago I saw one of the best concerts of my life. It was a band called Akron/Family. I had never heard or seen them before. What made the experience so unique was their ability to totally engage the audience. They represent cool media in its purest form. All throughout the show, audience members would sing along and "jam" with the band. What ensued was a musical conversation between performer and listener that I have never seen before, and i've seen tons of shows.
The concert opened with an a capella piece. Slowly but surely the audience joined in in 4 part harmonies, soaring above the musicians on stage. Once a groove had been created, they slam into the second song, a wash of noisy improvisations that slowly evolves into a loud, sing-along rock anthem. Below is the first song. It's worth watching until the end to see the audience join in.
At the end of the show, they started calling audience members up onto the stage, handing them shakers and flutes and drums as they climbed up. Once 30 or so people got up, they band members started coming into the audience, totally reversing the dynamic. We must have jammed for 30 minutes together. They ended the night with a song, Circle, Triangle Square with YMCA-esque choreography. If you haven't seen them, please do so. I promise it will change the way you think about live music.
Now if you'll excuse me, i'm going to go call all my friends and tell them about the show.
Click here to listen to their myspace